Local Events in and around Inverness
courtesy of Inverness Hotels Association
There are changing exhibitions throughout the year in Inverness Museum & Art Gallery (between the tourist office and the castle). Local history talks take place here on the first Wednesday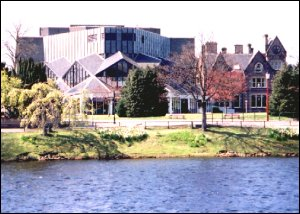 evening of each month.
Organ recitals and concerts sometimes take place in Inverness Cathedral.
A multi-screen Warner cinema is situated just outside the city off the main road heading to Aberdeen.
Concerts and other spectacles take place at Eden Court Theatre (near the cathedral on the river). However Eden Court is now closed for a major refurbishment and expansion which is set to make it the biggest multi arts centre north of the border. The building work is due to be completed in time for Highland Year of Culture 2007.
In July, August and September, there are various events for tourists in Inverness city. These include:
local pipe band in Inverness High Street on Tuesday evenings 8pm – 8.30pm.
Highland Dancers on a mini-stage in High Street on Thursday evenings 6pm – 7pm.
Pipe band in Falcon Square on Saturdays at 1pm and also in High Street at 2pm.
Kids magician/juggler in the Victorian Market on Saturdays 12 – 1pm.
'The Highland Encounter' at Abertarff House (Church Street) 1.30pm – 3.30pm
Piper at the Castle every Saturday afternoon 4 – 4.30pm.
You are also likely to see a piper or two busking in the streets of Inverness and sometimes other musical entertainment around the Eastgate shopping centre & Falcon Square.
Look out for Scottish Showtime – a live professional performance of traditional Scottish music and dance suitable for adults & children. Venue: The Ramada Hotel in Church Street, Inverness. Every evening 8.30pm – 10.30pm Monday – Thursday in June & July, Monday – Friday in August & September. Book your tickets by phone +44(0)1349 830 930 or via their web site. Or from the Inverness Tourist Information Centre or at the show on the night of the performance. This popular show has been running for over 30 years.
Live music sessions are held at the new Scottish Ceilidh Bar called Hootenanny in Church Street (tel: 01463 233651). For other venues, see the notice board in the tourist information office.
The Farmers' Market is held on the first Saturday of each month (except January), with stalls of local produce (meat, fish, fruit, vegetables, cheese, homebaking) in the Eastgate pedestrian area of Inverness city centre.
Calendar of Events
Click here for this week's list of events courtesy of the Inverness tourist office (PDF file)
Whatever time you choose to visit the Highlands, you will always find entertainment and interesting activities.
Events in 2006:
18 February: start of the Arnold Clark/Thistle Hotels Snowman Rally (rally car race) from the High Street in Inverness.
20 February – 11 March: The Inverness Music Festival (tel: 01463 716616)
3 – 4 March: Aviemore Mountain Film Festival. Telephone: 07719 687 729
mid March – Inverness Half Marathon
22 & 23 July – Inverness Highland Games in Bught Park. For 2006 this includes the World Masters Highland Games Championships. The games are preceded by the March of the Highlanders (sponsored walk from Culloden Battlefield Visitor Centre to the Inverness Highland Games) in aid of the Highland Hospice.
late July – Inverness Tattoo features military displays, traditional dancing and pipe bands in the Northern Meeting Park (near the Cathedral). Every evening at 8pm for 6 nights starting on the Monday after the Inverness Highland Games. Contact Bob Shanks, telephone 01463 242 915.
3 August – Black Isle Show at Muir of Ord (tel: 01463 870870)
4 – 5 August: Highland Field Sports Fair at Moy Hall (between Aviemore and Inverness). Tel: 01463 232618.
second Saturday in August – Highland Games at Strathpeffer.
11 – 12 August: Tartan Heart Festival on the Belladrum Estate, by Beauly. Family-orientated outdoor festival of rock, country, blues and world music.
mid August – The Marymas Fair is a traditional festival which was held every year from 1590 until 1850 on the feast day of Mary (August 15), and was then revived in 1986. It begins with a horse and carriage procession from the cathedral through the city centre with participants in medieval style costumes. Later the Marymas Queen is crowned in the presence of her four ladies-in-waiting. The fair itself in the Northern Meeting Park features craft stalls, entertainment, etc. Quite a colourful day full of events! (Telephone 01463 715 760 for details). It is usually held on the nearest Saturday to 15 August.
Last weekend in August – the Inverness Flower and Garden Festival.
end August – The Great River Ness Raft Race. This popular event was first staged in Inverness in 1978 and has since become a firm favourite with both locals and visitors.
early September – Blas – a new festival celebrating Highland music
2 days in early September – annual Northern Meeting Piping Competition (telephone 01463 224981).
mid – late September: Inverness Book Festival
22 – 30 September: Loch Ness Beer Festival, Benleva Hotel, Drumnadrochit.
late September: Highland Feast / Food & Drink Festival – tastings, cookery demonstations and many special events.
1 October: Loch Ness Marathon plus 5K and 10K River Ness fun runs.
30 September – 15 October: Highland Archaeology Fortnight – events and seminars throughout the region.
October: Blazin' in Beauly (music festival)
early November: Inverness Film Festival. Tel: 01463 234234
5 November – Grand Bonfire and Fireworks Display at Bught Park
December – Christmas events (details to be announced later in the year)
For additional events listings, see:
The Inverness City Advertiser – detailed events listings covering music, nightclubs, cinema, theatre, sports, exhibitions, restaurants, etc.
Cultural events diary on HI-ARTS
Community Events Calendar provided by Moray Firth Radio
Events listings supplied by the Highlands of Scotland Tourist Board
Events in 2007:
There will be lots of different events in 2007 for the Highland Year of Culture – click here for updates.
Events will include:
20 – 28 July 2007 – Highland Gathering
20 July 2007 – Clan Gathering at Culloden Battlefield
21 July 2007 – World Highland Games Heavy Championships
23 – 28 July 2007 – Highland Tattoo
28 July 2007 – European Pipe Band Championships
HOTEL JOBS
Accommodation Special Offers – List of Hotels
Sightseeing Suggestions – Transport & Travel Info – Local Events
External Links